Search Filter
Jump To Product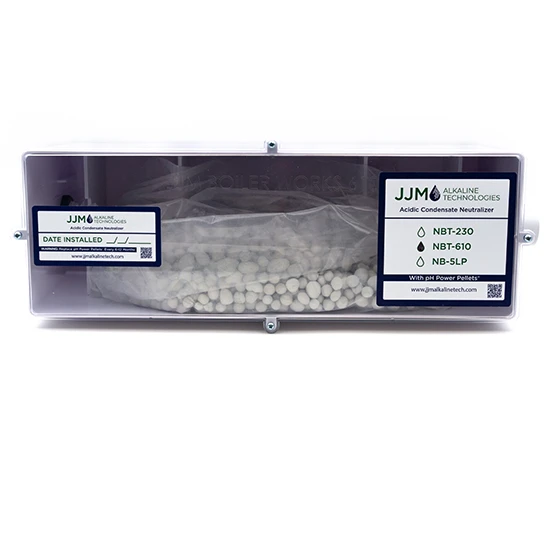 NBT-Series
Model NBT-610
The Model NBT-610 condensate neutralizer is appropriate for light commercial installations with its standard tank design. Its unique baffle system enables appropriate soak time while minimizing the neutralizer's footprint and is rated up to 11 GPH (1,500 MBH).
NBT-610 Download Center
The NBT-Series is our versatile line of tank, floor mounted neutralizers that ranges from residential to light commercial installations. The NBT-Series models are easily serviceable with a removable lid, which enables fast and easy inspection and maintenance. NBT-Series neutralizers are well-suited for most standard operating site conditions.
MODEL NBT-610 BENEFITS
Unique baffle design ensures sufficient soak time while maintaining a small footprint.
Easily serviceable and with its low-inlet design, NBT-610 is designed for most light commercial appliances.
The Model NBT-610 is well-suited for light commercial installations of high-efficiency, gas-fired appliances such as condensing boilers, furnaces, and hot water heaters rated approximately 1,500 MBH.
Installations
Commercial
For properties with condensing appliances, a condensate neutralizer is an essential component to prevent corrosion of facilities, wastewater infrastructure, and the surrounding environment.
Many property owners upgrade to high-efficiency heating systems specifically to reduce their impact on the environment. Without neutralizing its acidic condensate, a condensing heating appliance can cause environmental and property damage, including:
Pollution of surrounding environment and groundwater
Destruction of wastewater infrastructure, such as sewers, pipes, and septic systems
Erosion of floors, drains, and concrete foundations
Corrosion of pipes in homes and other buildings
Model NBT-610 Specifications
Part #2010
MBH
Flow Rate
Inlet Port
Outlet Port
Mounting
JJM® condensate neutralizers must be routinely serviced to remain effective. Once a year, Service Technicians should inspect the neutralizer and replace the JJM® pH Power Pellets® (neutralizing media) to ensure continued protection and code compliance.
When you register a JJM® condensate neutralizer, the neutralizer will be under warranty against defects in materials and workmanship for one year. The warranty does not cover the issues that result from misuse, improper installation, and/or failure to replace the pH Power Pellets® as instructed.