Search Filter
Jump To Product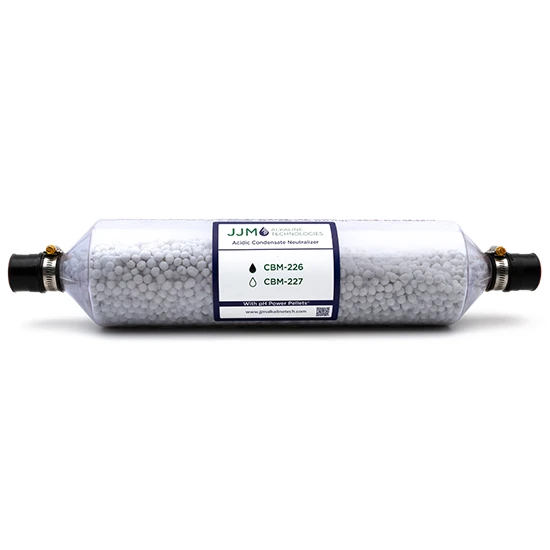 CBM-Series
Model CBM-226
Part of our best-selling line, the CBM-226 is a versatile inline tube neutralizer that can be equipped for most standard light commercial installations, including appliances with a low condensate drain, and rated for 16 GPH condensate (1,500 MBH).
CBM-226 Download Center
The CBM-Series neutralizers feature a streamlined profile and transparent capsule, which enables operators and service technicians to visibly inspect the efficacy of the neutralization process. The CBM-Series is easily serviced in the field via our factory-direct refill pre-charged with pH Power Pellets®.
The CBM-226 model is versatile to install in most residential installations, either wall or floor-mounted.
With its low-profile design, the CBM-226 is purpose-built for high-efficiency, gas-fired appliances with a low condensate drain.
The Model CBM-226 is for light commercial installations of high-efficiency, gas-fired appliances such as condensing boilers, furnaces, and hot water heaters rated approximately 1,500 MBH.
Installations
Commercial
The effects of untreated acidic condensate can develop quickly, corroding copper, iron pipes, or floor drains in a matter of months, not years. Fortunately, condensate neutralizers are relatively inexpensive, and they can save property owners from expensive damage.
JJM® condensate neutralizers are quick and easy to install, at the initial installation or during annual maintenance of the high-efficiency, gas-fired appliance. Neutralizers should be installed by a licensed, trained Installer or Service Technician.
Model CBM-226 Specifications
Part #5003
MBH
Flow Rate
Inlet Port
Outlet Port
Mounting
pH Power Pellets Refill
1,500
16 GPH
1"
1"
Floor
CBM-226R Part #6003
JJM® condensate neutralizers must be routinely serviced to remain effective. Once a year, Service Technicians should inspect the neutralizer and replace the JJM® pH Power Pellets® (neutralizing media) to ensure continued protection and code compliance.
When you register a JJM® condensate neutralizer, the neutralizer will be under warranty against defects in materials and workmanship for one year. The warranty does not cover the issues that result from misuse, improper installation, and/or failure to replace the pH Power Pellets® as instructed.